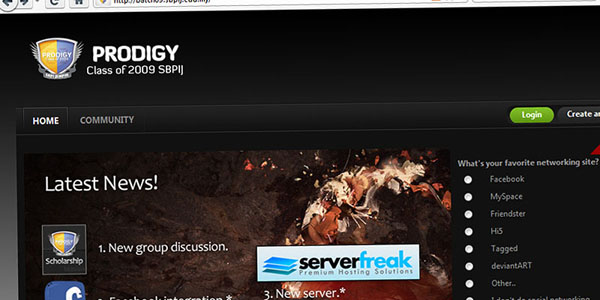 PRODIGY | Class of 2009 SBPIJ official website is my third website, developed in December 2008 using Joomla! 1.0 as Content Management System (CMS). It was developed after my old blog and TechnoFlash Official Site, when I and my schoolmates planned to have a community-based website to discuss about our batch related things to education problems.
Early development of this site, I only invited some of my 'geek' friends to become a beta tester. Thank God, this site softly launched in the mid of December 2008.
On the framework, I've used a lot of components and plug-ins. Some are free and paid components. These are;
Honestly, due to the some internal problems I need to move it to a self-hosted server. Until now, this site has been shared with school's server since December 2008. Yeah, we have planned about this before and also came out with a super-cool domain name, but hey, anybody want to support us?
Our batch's website 'ate' a lot of bandwidth everyday.