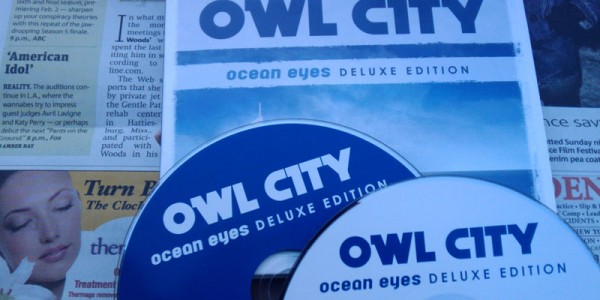 I'm not 100 percent assured of what compelled me to write this. Maybe I spend my time during the journey to IIUM (listening the whole album, haha) , or maybe it was my indescribable desire for positivity in a world of music where it's definitely lacking as the norm. Either way, here it goes.
Owl City, the musical alias of Adam Young, released his Universal Republic debut Ocean Eyes in 2009. The full-length is jam-packed with layers and layers of synthesizers, MIDI programming, and an innocent vocal flair. What makes this a bit different from most electronica acts is its undeniable driving rhythm, especially in tracks "Cave In" and "Hello, Seattle" along with guest vocals from the very similar sounding Matt Thiessen of Relient K.
Young uses a combination of analog instruments, such as guitars and drums, mixed with artificial drum loops and sweetly composed synths (see the track "Saltwater Room"), for the goal of making a lasting impact amongst the young at heart. The ethereal mix is undeniably catchy, and I just can't help but see The Postal Service resurrected in Young's compositions. The only difference between these two acts is that Young tends to get simplistic with his lyrics. Other than this, fans of the Gibbard/Tamborello duo would find Owl City quite refreshing.
Ocean Eyes begins with "Cave In," which can only be referred to as the perfect lead-off track, personifying all that Ocean Eyes was intended for, i.e. digital symphony. "The Bird and the Worm," which was written by both Young and Thiessen, starts with an acoustic guitar before mixing the "Mac Attack" programming loops. "Hello, Seattle" is one of the best tracks on the album with the rhythm and hooks clicking on all cylinders. "Umbrella Beach" is a dance-club anthem; all that's missing is a waving glowstick. The album slows down a bit with "The Saltwater Room," a beautiful track with guest vocals from Breanne Duren (Swimming With Dolphins).
"Dental Care" is a pretty simple track about a trip to the dentist an ode to good oral hygiene, I suppose. My personal favorite is "Vanilla Twilight," a beautifully layered track similar to "Hello, Seattle," but it adds just a bit of electronic charisma and those darn synths. "Fireflies," the single off of Ocean Eyes, starts off very lullaby-esque before breaking into a powerful chorus, as Young sings "I'd like to make myself believe / That Planet Earth turns slowly / It's hard to say that I'd / Rather stay awake when I'm asleep / 'Cause everything is never as it seems".
The rest of Ocean Eyes flails a little bit and tends to be more redundant than pleasant. However overall, this is a solid album.